Overview
A calcaneal spur (or heel spur) is a small osteophyte (bone spur) located on the calcaneus (heel bone).
Calcaneal
spurs are typically detected by a radiological examination (X-ray). When a foot bone is exposed to constant stress, calcium deposits build up on the bottom of the heel bone. Generally, this has no effect on a person's daily life. However, repeated damage can cause these deposits to pile up on each other,causing a spur-shaped deformity, called a calcaneal (or heel) spur. Obese people, flatfooted people, and women who constantly wear high-heeled shoes are most susceptible to heel spurs. An inferior calcaneal spur is located on the inferior aspect of the calcaneus and is typically a response to plantar fasciitis over a period, but may also be associated with ankylosing spondylitis (typically in children). A posterior calcaneal spur develops on the back of the heel at the insertion of the Achilles tendon. An inferior calcaneal spur consists of a calcification of the calcaneus, which lies superior to the plantar fascia at the insertion of the plantar fascia. A posterior calcaneal spur is often large and palpable through the skin and may need to be removed as part of the treatment of insertional Achilles tendonitis. These are also generally visible to the naked eye.
Causes
Causes for heel spurs (and related plantar fasciitis) include increase or change in activity, lack of arch support or poor shoe choice, injury, inflexibility in Achilles tendon and calf muscles, and spending hours daily on the feet. Also, arthritis from aging is often a common cause of bone loss and natural cushioning under the heel. Tarsal tunnel syndrome can also be to blame. Ultimately, in the United States, the most likely cause of this pain is being overweight. With more than 60% of the nation obese or morbidly obese, foot pain related to excessive weight is most likely. Dietary changes are most likely to cause long-term relief for bone spurs and plantar fasciitis.
Symptoms
Heel
spurs often do not show any symptoms. If you have intermittent or chronic pain when you walk, run or jog, it may be heel spur. There will be inflammation the point where spur formation happens. The pain is caused by soft tissue injury in the heel. Patients often describe the pain as a pin or knife sticking to the heel. The pain is more specially in the morning when the patient stands up for the first time.
Diagnosis
Your doctor will discuss your medical history and will examine your foot and heel for any deformities and inflammation (swelling, redness, heat, pain). He/she will analyze your flexibility, stability, and gait (the way you walk). Occasionally an x-ray or blood tests (to rule out diseases or infections) may be requested.
Non Surgical Treatment
Perform some exercises. Exercises that strengthen and lengthen your plantar fascia can also be very helpful for heel spurs. Try some of the following activities. Calf stretch. Place your hands on a wall. Extend 1 foot (0.3 m) behind you with your knee straight and place the other foot in front of you with the knee bent. Push your hips toward the wall and hold the stretch for 10 seconds. You should feel a pull in your calf muscles. Repeat the stretch 20 times for each foot. Plantar fascia stretch, Perform this exercise in the morning before you've done any standing or walking. Cross your injured foot over the knee of your other leg. Grasp your toes and gently pull them toward you. If you can't reach your toes, then wrap a towel around them and pull on the towel. Hold the stretch for 10 seconds and repeat 20 times for each foot.
Surgical Treatment
In some cases, heel spurs are removed by surgery after an X-ray. While the surgery is typically effective, it?s a timely and expensive procedure. Even after surgery, heel spurs can re-form if the patient continues the lifestyle that led to the problem. These reasons are why most people who develop painful heel spurs begin looking for natural remedies for joint and bone pain. Surgery isn?t required to cure a heel spur. In fact, more than 90 percent of people get better with nonsurgical treatments. If nonsurgical methods fail to treat symptoms of heel spurs after 12 months, surgery may be necessary to alleviate pain and restore mobility.
Prevention
To prevent this condition, wearing shoes with proper arches and support is very important. Proper stretching is always a necessity, especially when there is an increase in activities or a change in running technique. It is not recommended to attempt working through the pain, as this can change a mild case of heel spurs and plantar fascitis into a long lasting and painful episode of this condition.
tag : Heel Spur,Calcaneal Spur,Inferior Calcaneal Spur,Posterior Spur
Overview
The heel bone is the largest bone in the foot and absorbs the most shock and pressure. A heel spur develops as an abnormal growth of the heel bone. Most commonly, calcium deposits form when the plantar fascia pulls away from the heel area, causing a bony protrusion, or heel spur to develop. While bone spurs can develop in other locations such as the rear of the heel bone, this is the most common location for development. The plantar fascia is a broad band of fibrous tissue located along the bottom surface of the foot that runs from the heel to the forefoot.
Heel
spurs can cause extreme pain in the rearfoot, especially while standing or walking.
Causes
Heel
spurs develop in some people that have a condition called plantar fasciitis, inflammation of the plantar fascia.
Heel
spurs form when the plantar fascia separates from the calcaneus. An abnormal bone growth, a hook-like spur, forms from calcium deposits that grow at the site of inflammation.
Heel
spurs are more common in middle-aged adults and people that have had plantar fasciitis for a long time. People with flat feet or high arches are vulnerable to heel spurs. Women who wear high-heeled shoes are more susceptible, as well.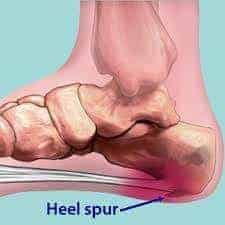 Symptoms
Most bone spurs cause no signs or symptoms. You might not realize you have bone spurs until an X-ray for another condition reveals the growths. In some cases, though, bone spurs can cause pain and loss of motion in your joints.
Diagnosis
Heel
spurs and plantar fasciitis are diagnosed based on the history of pain and tenderness localized to these areas. They are specifically identified when there is point tenderness at the bottom of the heel, which makes it difficult to walk barefoot on tile or wood floors. X-ray examination of the foot is used to identify the bony prominence (spur) of the heel bone (calcaneus).
Non Surgical Treatment
Since heel spurs are not an indication of pain themselves unless fractured, treatment is usually aimed at the cause of the pain which in many cases is plantar fasciosis. Treatment of plantar fasciiosis includes; rest until the pain subsides, special stretching exercises and if required orthotics may be prescribed.
Surgical Treatment
Surgery is used a very small percentage of the time. It is usually considered after trying non-surgical treatments for at least a year. Plantar fascia release surgery is use to relax the plantar fascia. This surgery is commonly paired with tarsal tunnel release surgery. Surgery is successful for the majority of people.
tag : Heel Spur,Calcaneal Spur,Inferior Calcaneal Spur,Posterior Spur